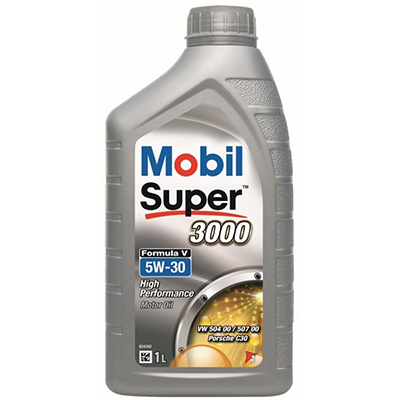 Mobil Super 3000 Formula V 5W30
€ 21,91
Beschrijving
Mobil Super 3000 Formula V 5W-30 is a low ash high performance motor oil designed to meet the demanding requirements of extended service life whilst still contributing towards fuel economy and superior engine cleanliness.
Mobil Super 3000 Formula V 5W-30 delivers excellent high and low temperature wear-protection and improved engine cleanliness.
Key features and benefits:
•  Extended service interval as per VW requirements.
•  Helping achieve fuel economy (as per ACEA C3).
•  Improved engine internal cleanliness to maintain engine efficiency over life of vehicle.
•  Fast circulation and protection.
•  Full compatibility with most Diesel Particulate Filters and Catalytic Convertors.
Mobil Super 3000 Formula V 5W-30 has been designed to meet the needs of the latest engine requirements of the VW Audi group where extended drain is required in conjunction with electronic service indicators with VW extended drain service schedule.
Specifications and Approvals
This product has the following approvals:
Porsche C30
VW 504 00
VW 507 00
This product meets or exceeds the requirements of:
ACEA C3
Properties and Specifications
| | |
| --- | --- |
| Property | |
| Grade | SAE 5W-30 |
| Ash, Sulfated, mass%, ASTM D874 | 0.6 |
| Density @ 15 C, g/ml, ASTM D4052 | 0.85 |
| Flash Point, Cleveland Open Cup, °C, ASTM D92 | 254 |
| Kinematic Viscosity @ 100 C, mm2/s, ASTM D445 | 12.1 |
| Kinematic Viscosity @ 40 C, mm2/s, ASTM D445 | 72.8 |
| Phosphorus, mass%, ASTM D4951 | 0.08 |
| Pour Point, °C, ASTM D97 | -45 |
Health and Safety recommendations for this product can be found on the Material Safety Data Sheet (MSDS) @ http://www.msds.exxonmobil.com/psims/psims.aspx
It cannot be guaranteed that the product information given above is up to date. For the latest version of the Product Data Sheet we refer to the product library of ExxonMobil.